You can use the Clients and Mandates Download buttons to download CSV reports.
CSV files are files with comma separated values that can be opened in Microsoft Excel.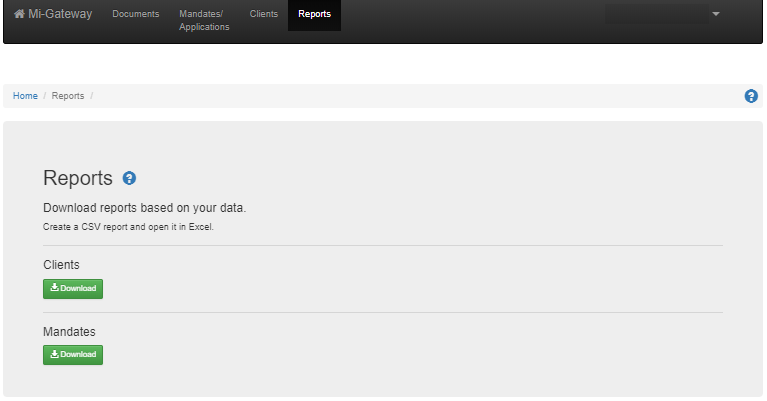 Depending on what you would like to do, you can either download a list of Clients or Mandates. 
Once downloaded the files are saved with a file name as follows: Mi-Gateway Client Report (Date Time).csv. The file will be downloaded into the browser's Download folder.
Once downloaded the file can be opened using Microsoft Excel.
If  you find that the that the data is not split on the comma then you can either do a quick or permanent fix.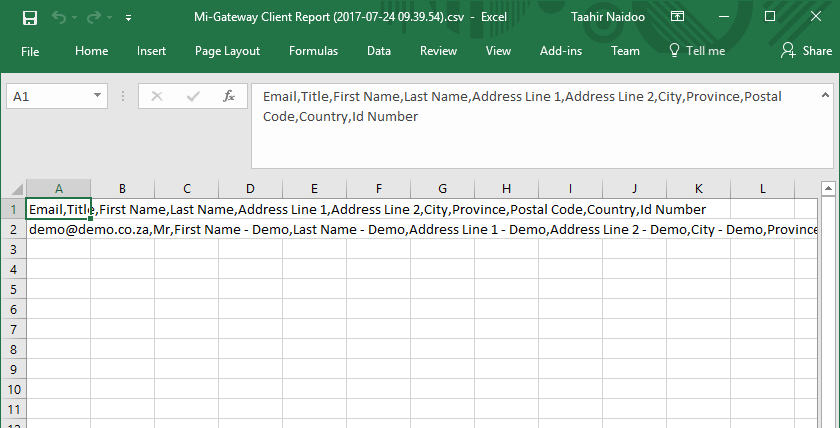 The Quick Fix is as follows:
Click on the Data tab.

Select "Text to Columns" and follow the wizard. Make sure "Delimited" is selected and click next.
Tick the Comma box. Then click finish.

The Permanent Fix is as follows:
Go to Control Panel.
Then go to Clock, Language and Region.
Select Regions.
Select Additional Settings which will present you with another pop-up window.
Change the List separator to a comma ( , ) and not a semi-colon ( ; ). Then click Apply and then OK. 
Exit all windows and when you now open the CSV excel spreadsheet the table will be well formatted into columns.